GOOD
The 11.5-inch Apple MacBook Air MJVM2LL/A (2015) is Apple's latest, smallest and least expensive laptop, with powerful and stable performance alongside all-day battery life in an attractive design.
PROS
Elegant design
More than 11 hours of battery life
CONS
Lacks HDMI and Ethernet ports
No SD card
1,366-by-768-resolution display
Today's best deals
$299.00
in stock
2 new from $299.00
4 used from $178.73
as of December 5, 2022 11:15 am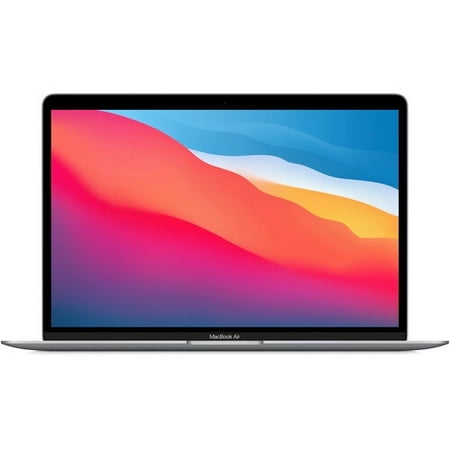 $949.00
$1,024.00
in stock
$1,149.00
in stock
3 new from $1,149.00
as of December 5, 2022 11:15 am
[UPDATE – A new Apple MacBook Air for 2022]
"When we reviewed the Apple MacBook Air 11 inch (MJVM2LL/A model) in 2015, it was among the best Air for that year, and it remained a favorite for many years since then. However, for 2022 Apple have released MacBook Air M2 (2022) that's ultimately the ultimate productivity machine, packing Apple's new M2 silicon and a refreshed, sleek design.
The new design nets a sleek and thin machine (though not much lighter than previous models), and it brings back our favorite MagSafe back. The 1080p camera is a much-needed upgrade we have all been looking out for, and you also get a bright screen and long battery life. Simply put, it feels like a breath of fresh air (which it is), despite being a series of modest upgrades and touch-ups.
If you want to be thin and fanless, the Apple MacBook Air M2 (2022) is a masterpiece. It's powerful, lasts long on a single charge, looks fantastic, and is nice and thin while also feeling solid and well built. The new (and returning features like MagSafe) are more than welcome. All you need is the willingness to spend that extra cash to get it. It's our newest Editor's Choice for Ultrabooks. We had a chance to tinker with it for a few weeks and the the full Apple MacBook Air M2 (2022) Review is now available!"
---
In the past we've seen Core-M ultrabooks claim to be ultraportable as they become thinner and thinner, but the Apple MacBook Air 11 inch (MJVM2LL/A model) redefines the entire fuss we've been hearing about ultraportability.
The latest models gets a modest CPU update, that is more powerful than last year's iteration, but while its bigger sibling, our Editors' Choice the 2015 Apple MacBook Air MJVE2LL/A 13.3-inch , is designed to please a wider range of users, the svelte 11-inch ultraportable makes a few tradeoffs to become even thinner and lighter.
It compensates for the few rough edges with an Intel Core i5 processor that means that the system can breeze through tasks that would otherwise slow an Intel-Core-M-equipped system, and on top it adds up to 11.5 hours of battery life. For regular commuters, the 11 inch MacBook Air is a wonderful machine for you, and it deserves a spot in your short list if you're always on the move for business or even research.
MacBook Air 11 inch Review: Design
The new 11 inch MacBook Air lays claims of being the most svelte Apple laptop in the market so far, but the all-aluminum exterior looks familiar as the design has remained unchanged since 2010. It measures 7.5 long by 11.8 wide, and its thickness tapers from 0.68 inches from the back to 0.11 inches at the front. The laptop weighs 2.38 pounds, which is ever-so-slightly heavier than the last year's model (2.31 pounds).
It is smaller and lighter than other ultraportables like the ASUS Zenbook UX305FA and the HP EliteBook Folio 1020, although those two are slimmer. However, it sacrifices I/O ports in favor of shaving off a few millimeters. This is expected as its Intel Core-i5 processor requires a fan for cooling, while the two models mentioned above use Intel Core M processors that don't require active cooling.
Connectivity
Ports remain unchanged from last year's MacBook Air, typical of any Apple product released in the same series. On the left side are a headset jack, two microphones, a MagSafe 2 power jack, and a USB 3.0 port. The right side sports a Thunderbolt 2 port and a second USB 3.0 port. That's a little sparse, but still far more than the MacBook with its single USB-C port.
In comparison, the ASUS Zenbook UX305FA and the HP EliteBook Folio each offer a wider selection of ports, thanks to their larger side panels. You'll need an adapter cable for HDMI or other display connectors, but the Thunderbolt port works just fine with mini-DisplayPort monitors. Wireless connectivity comes via integrated 802.11ac Wi-Fi and Bluetooth 4.0.
Display and Keyboard
As with its 13-inch counterpart, the keys on the 11-inch MacBook Air are backlit, chiclet-style keyboard feel excellent, and multitouch gestures work smoothly on the glass-covered trackpad. The trackpad doesn't have the Force-Click capability of the MacBook or the Apple MacBook Pro 13-inch, but that feature is still unsupported in most third-party applications. Like all Mac laptops, the Air lacks a touch screen, but given that OS X doesn't support touch gestures, it's certainly not a deal breaker.
The main drawback on the MacBook Air 11 inch is the 1,366-by-768-resolution display. The screen is bright and quite legible, but seems cramped in comparison with the Retina Display on the MacBook or any number of Windows laptops with 1080p- or higher-resolution screens, such as the ASUS Zenbook UX305FA. That said, you'll still find 1,366-by-768 screens on some ultraportables, like the Lenovo ThinkPad Yoga 11e.
Performance
The MJVM2LL/A is powered by a 1.6GHz Intel Core i5-5250U processor with integrated Intel HD Graphics 6000. This hardware is quite good for multimedia tasks, especially if you regularly use Adobe Photoshop Creative Suites. It will give you better and faster performance than you'd get from the more expensive models like the Dell XPS 13 Touch or even the 14-inch Lenovo Yoga 13.
However, systems with Intel Core i7 processors, like the Acer Aspire S7-393-7451 and the Dell Inspiron 13 7000 are notably faster than the svelte MacBook Air. The MacBook Air is even faster than last year's Apple MacBook thanks to a more powerful processor and flash memory.
This machine comes with 4GB of RAM, upgradable to 8GB if you find it necessary. That's still enough for multitasking in Mac OS X, but consider upgrading if you like to keep dozens of windows open simultaneously. There's 128GB of flash storage on the system, which is adequate for day-to-day use, particularly if you supplement that with online cloud storage or an external drive, you can even upgrade the SSD storage for a few bucks more.
The flash storage is PCIe-based, which makes it faster than the SATA-based solid-state drives (SSDs) and flash storage in older ultraportables. This helps the system boot in only a few seconds and apps to load quickly in testing. The MacBook Air comes with a one-year warranty, which is the same as most midrange Windows laptops.
Thankfully, the system is unencumbered by bloatware and it performs better than machines fitted with dual core intel Core i5 (3mb shared l3 cache) chips. If you plan on using it for 3D tasks, the results will be definitely mediocre. The laptop should be fast enough for simpler games like Diablo III, but you wouldn't want to run Grand Theft Auto V at Ultra-quality settings.
Battery Life
With its 38-watt battery, the MacBook Air 11-inch will give almost 11 hours 33 minutes of battery life. This is far less than the astounding 17:36 of the Apple MacBook Air 13.3-inch and its larger 54-watt battery, but a much longer runtime than the Acer Aspire S7-393-7451 (9:57). The Air should last throughout a cross-country flight, and have juice left for another work session afterward.
Since the 11-inch MacBook Air packs the same memory, processor, and storage as its 13-inch big brother, it's no surprise that the two will return almost identical performance scores save for battery life. If you can handle the larger size and the extra bucks, go for the 13-inch, the extra juice is worth it.
Apple MacBook Air 11 inch Review: Verdict
The Apple MacBook Air 11.6-inch (MJVM2LL/A model) might be one of the smallest ultraportable laptops in the market, but it receives more leverage from its powerful Intel Core i5 processor and a long-lasting battery life, that help it stay ahead of its Core-M-equipped rivals. It also gives users better connectivity options than the older Apple MacBooks.
Consider buying it if you need to really replace an older (maybe 3 years old) MacBook Air or Windows ultraportable, but you can probably skip it if you have last year's model of the MacBook Air. The Apple MacBook Air (MJVM2LL/A) lacks the props to unseat the 13-inch MacBook Air (MJVE2LL/A) as our Editors' Choice in the midrange ultraportable laptop category, thanks to its larger screen and astounding (up to 17 hours) battery life for a few bucks more.
Last update on 2022-12-05 at 11:12 / Affiliate links / Images from Amazon Product Advertising API
OUR PICK
Apple MacBook Air MJVM2LL/A 11.6-Inch Laptop (1.6 GHz Intel Core i5, 128 GB SSD, Integrated Intel HD Graphics 6000, Mac OS X 10.10 Yosemite) (Renewed)
2 new from $299.00
4 used from $178.73

as of December 5, 2022 11:15 am
Apple MacBook Air 11 inch (MJVM2LL/A) Review